1588 E. coli O157:H7 Cromogenic Agar Base 500 g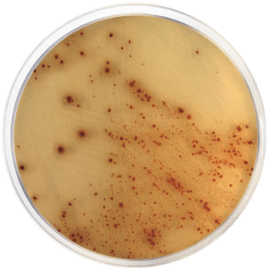 1588 E. coli O157:H7 Cromogenic Agar Base 500 g
E. coli O157:H7 Chromogenic Agar Base is used for the detection of E.coli O157:H7. This is a widespread health issue that is responsible for hemorrhagic colitis that causes bleeding diarrhoea along with acute abdominal pain.
E.coli O157:H7 produce several cytotoxins, neurotoxins, and enterotoxins, including Shiga toxin. Incorrect antibiotic treatment may increase the risk of haemolytic uraemic syndrome development, a potentially fatal complication of this form of colitis. It has a bovine reservoir so infection can occur after ingestion of undercooked beef or unpasteurized milk. The organism can also be transmitted by the fecal-oral route.
Peptone Mixture provides nitrogen, vitamins, minerals, and amino acids essential for growth and chromogenic mixture allows to easily detect the presence of
E.coli O157:H7 by colony coloration that grows pale pink. Potassium tellurite and cefixime are highly selective for E. coli O157:H7 and inhibit most contaminating bacteria including other E.coli strains and coliforms. Bacteriological agar is the solidifying agent.

DESCARGAR FICHA TÉCNICA