The beverage industry is a diverse world of flavors, concoctions, and quenchers. Behind the scenes of crafting your favorite beverages, one essential ingredient takes the spotlight - water. It serves as the canvas upon which flavors are painted, but its purity is paramount to ensure your safety and satisfaction. In this blog post, we delve into the critical role of drinking water control in the beverage industry and how it safeguards your health.
The Essence of Water Quality
Water is the lifeblood of the beverage industry. It mingles with various ingredients from animal, vegetable, and synthetic sources to create the drinks you love. However, its importance goes beyond quenching your thirst. Contaminated water can become a vector for diseases, making it crucial to scrutinize its physicochemical and microbiological properties.
EU Directive: Setting the Standards
The European Union's Directive (EU) 2020/2184 outlines the minimum parameters for drinking water. It places a particular emphasis on bacteria like E. coli, which are indicators of fecal contamination. The directive also introduces controls for Enterococci and culturable organisms. In instances where water quality concerns arise, additional tests for pathogens such as Salmonella and parasites like Entamoeba histolitica, Giardia intestinalis, or Cryptosporidium parvum become necessary.
Microbial Parameters: Indicators of Quality
Microbiological parameters and indicators like Escherichia coli, Enterococci, and Coliform bacteria play a significant role in determining water quality. Their presence or absence serves as a warning sign, reflecting the production conditions and environment. They are vital tools for ensuring Good Hygiene Practices (GHP) and Good Manufacturing Practices (GMP).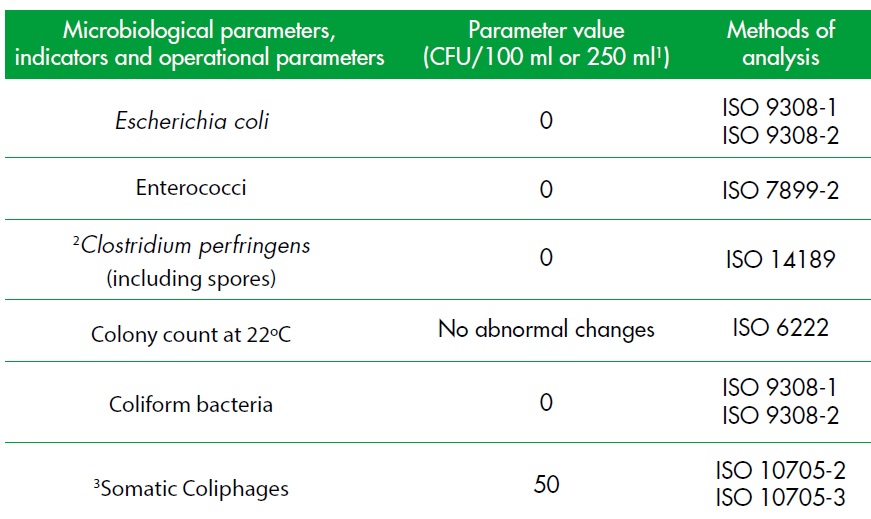 Methods of Analysis
To maintain water quality, rigorous testing methods are employed. These include ISO standards like ISO 9308-1, ISO 9308-2, ISO 7899-2, ISO 14189, ISO 6222, ISO 9308-1, ISO 9308-2, ISO 10705-2, and ISO 10705-3.
In conclusion, the purity of water is not just a concern for health-conscious individuals, but also a critical element of the beverage industry. Drinking water control and stringent testing methods help maintain the highest standards, ensuring that the beverages you enjoy are not only delicious but also safe.
Condalab products for Drinking Water Control:
| | | | |
| --- | --- | --- | --- |
| CAT. | PRODUCT | NORMATIVE | PACK SIZE |
| 4709 | Clostridium Perfringens Agar (m-CP) | Council Directive 98/83/EC | 30 Water Plates |
| 1132 | Clostridium Perfringens Agar Base (m-CP) | ISO 7937, ISO 14189 | 500 g |
| 4660 | TSC Agar Base (Tryptose Sulfite Cycloserine) | Council Directive 98/83/EC | 10 x 100 ml |
| 4661 | TSC Agar Base (Tryptose Sulfite Cycloserine) | ISO 7937, ISO 14189 | 10 x 200 ml |
| 4728 | TSC Agar Base (Tryptose Sulfite Cycloserine) | ISO 7937, ISO 14189 | 30 Water Plates |
E. coli / Coliforms

 

CAT.

PRODUCT

NORMATIVE

PACK SIZE

4702

Chapman TTC Agar (Tergitol 7 Agar)

 

30 Water Plates

1076

Chapman TTC Agar (Tergitol 7 Agar)

 

500 g

981

Chromogenic Coliforms Agar (CCA)

ISO 9308

20 Plates

4721

Chromogenic Coliforms Agar (CCA)

ISO 9308

30 Water Plates

2080

Chromogenic Coliforms Agar (CCA)

ISO 9308

500 g

4722

Fecal Coliforms Agar (m-FC)

 

30 Water Plates

1127

Fecal Coliforms Agar Base (m-FC)

 

500 g

2182

m-Agar Lactose Glucuronide (mLGA)

 

500 g

4102

M-CC Broth

 

50 Tubes
Enterobacteriaceae
| | | | |
| --- | --- | --- | --- |
| CAT. | PRODUCT | NORMATIVE | PACK SIZE |
| 5003 | MacConkey Agar | European Pharmacopeia, USP, ISO 21150, ISO 21567 | 10 x 100 ml |
| 900 | MacConkey Agar | European Pharmacopeia, USP, ISO 21150, ISO 21567 | 20 Plates |
| 1052 | MacConkey Agar | European Pharmacopeia, USP, ISO 21150, ISO 21567 | 500 g |
| 1035 | MacConkey Agar Nº 2 |   | 500 g |
Enterococcus (intestinal)
| | | | |
| --- | --- | --- | --- |
| CAT. | PRODUCT | NORMATIVE | PACK SIZE |
| 952 | Bile Esculin Azide Agar | ISO 7899-2 | 20 Plates |
| 1372 | Bile Esculin Azide Agar | ISO 7899-2 | 500 g |
| 1070 | Enterococcus Selective Agar (Enterococcosel Agar) |   | 500 g |
| 1034 | KF Streptococcal Agar |   | 500 g |
| 946 | Slanetz-Bartley Medium | ISO 7899-2 | 20 Plates |
| 4710 | Slanetz-Bartley Medium | ISO 7899-2 | 30 Water Plates |
| 1109 | Slanetz-Bartley Medium | ISO 7899-2 | 500 g |
| | | | |
| --- | --- | --- | --- |
| CAT. | PRODUCT | NORMATIVE | PACK SIZE |
| 1011 | Bismuth Sulfite Agar (Wilson Blair) | USP | 500 g |
| 5122 | Cetrimide Agar | European Pharmacopeia, USP, ISO 22717 | 10 x 100 ml |
| 916 | Cetrimide Agar | European Pharmacopeia, USP, ISO 22717 | 20 Plates |
| 4704 | Cetrimide Agar | European Pharmacopeia, USP, ISO 22717 | 30 Water Plates |
| 1102 | Cetrimide Agar Base | ISO 16266 | 500 g |
| 4740 | Pseudomonas Agar CN | European Pharmacopeia, USP, ISO 22717 | 30 Water Plates |
| 1153 | Pseudomonas CN Agar Base | ISO 16266 | 500 g |
| | | | |
| --- | --- | --- | --- |
| CAT. | PRODUCT | NORMATIVE | PACK SIZE |
| 1190 | TGEA Medium (Tryptone Glucose Yeast Extract Agar) | ISO 6222 | 500 g |
| 4671 | Yeast Extract Agar (YEA) | ISO 6222 | 10 x 100 ml |
| 4672 | Yeast Extract Agar (YEA) | ISO 6222 | 10 x 200 ml |
| 4022 | Yeast Extract Agar (YEA) | ISO 6222 | 20 Tubes |
| 4703 | Yeast Extract Agar (YEA) | ISO 6222 | 30 Water Plates |
| 1049 | Yeast Extract Agar (YEA) |   | 500 g |